It has been quite awhile since I've written six months ago. It's my last night in Manila before I return to Tokyo after having spent the last three weeks here. The reason I am here is that I've been in the middle of building out aoiShip's MVP back-end system with my friends and partners from Bliimo Technologies, who are supporting us with a team of engineers and architects in preparation for our September 25th launch. I'm so grateful for them, because it has been WAY more work than I was expecting, even though I tried to expect this would be.
Above: Bliimo Technologies development team in Manila
September 25th is a special day for us at our aoiShip, as it will mark our one-year anniversary as a company. It's hard to believe it's almost been a year already!
As I sit here a month away from our launch, I look out from the windows of a cityscape loft in Ortigas, Pasig, reflecting on how I even got here, and how much has changed from the start of this year. It was just six months ago I was making my first pitch for aoiShip. We were still only just an idea—albeit an idea that was searing in my head—with only one way to execute at the time without funding, which was to bootstrap. So much has happened since.
Momentum picked-up for us after we were approved by Japan Finance Corporation for a ¥10,000,000

startup loan

.
This became the catalyst to get aoiShip rolling beyond an idea. From this loan, we were able to quickly build a fully-customized platform of over 30+ screens for Version 1.0, which will go beyond the initially-planned MVP, with support from:
Createx Studio based out of Odessa, Ukraine who has helped support User-Interface and User-Experience Design. Thanks to their professionalism and creative genius, we will be rolling out a beautiful, aesthetically-pleasing platform that is well thought-out and fashion-forward, drawing upon their several years of experiences designing e-Commerce platforms worldwide. This will allow the exclusive items we will be sourcing from Japan to shine through to shoppers, influencers, and any viewer.
Bliimo Technologies

, based out of Manila, Philippines in support of back-end development, taking on Version 1.0 and building out our core features and key differentiators, as well as building out the foundations for Version 2.0+ development which we are already planning, such as implementation of blockchain in order to promote the impact of micro-influencers around the world.
Without JFC's loan, getting to where we are now would have taken another year or more easily, as we would have had to fundraise first without the same level of product to show. We are incredibly thankful to JFC for their full confidence in our concept and our abilities.
As a startup that is based in Japan, Kazu and I view the global-makeup of our minds as founders as a key differentiator. We view the ability to create global virtual teams from Ukraine and the Philippines as a success and something we hope to build upon to gain a competitive advantage going forward as we enter the launch phase a year into our journey. We estimate total development costs to end up around ¥2,000,000 at launch. Although it required a few extra trips of global travel, had we tried to deliver the same output solely using Japan resources, our costs would have been at least 3x higher in expense based on our estimates.
Here is an audio-preview of what the platform will be. This comes from a segment from my most recent podcast interview in New York on the Tommy Danger Experiment discussing what aoiShip will be:
More specifics will be shared when we launch our service in one month.
We applied and interviewed for our first startup accelerator.
As we came closer to completing our product, we felt it was the right time to boost our momentum by entering an accelerator. I was advised to consider programs such as 500 Startups and Y-Combinator in San Francisco. While they are excellent programs to consider, both require international startups to reincorporate their business to the United States if accepted, which is not an option for us. So we began to look towards Asia-based programs, and after careful consideration of a handful of options, we applied to AppWorks, an AI and Blockchain-focused Accelerator based in Taipei.
The process-in-itself was an exciting and rewarding journey that helped Kazu and I as founders to deeply consider and really frame our business model. The first step was an online application which was lengthy, comprehensive, and thorough. It asked us over 20 questions designed to understand our minds, goals, missions, and finally, the business model itself. It even asked us to record a one-minute CEO introduction video:
After reviewing and revising our application several times over a few weeks, we finally pressed the "submit" button, with a lot of tension and nervousness. We received the instant automated reply: "Your application will be carefully reviewed. Startups that seem most promising will be invited to come in for an interview, which is scheduled on a rolling basis. Final admission decisions will be made based on what we learn during the interviews."
About a week later, we received another e-mail letting us know that

we passed the Application Stage

! We were thrilled. They invited to interview in-person, and the start date of the six-month program was only three weeks away from the interview date. Only a small percentage of applicants make it past the application stage, and we started to let our dreams run wild about all the "what-ifs". We immediately began counting our cash to see how long we could last as a startup without steady jobs, and planning our move to Taiwan.
World-class mentorship?
First seed-fundraise?
Road to unicorn, here we come!
Kazu and I booked our flights the next day and flew ourselves to Taipei about a week later. We came in the night before the interview, rehearsing our scripts, studying our application over and over, practicing answers on each other for anticipated questions. When the moment finally arrived, we loaded up on several cups of coffee. It was #GoTime.
We stood in silence as we took the elevator up to the facility. As the elevator doors opened we were welcomed by a buzzing, tech-y atmosphere that you would expect. After ten minutes of waiting, we were brought into the meeting room expecting to meet 3 or 4 individuals.

Instead we were greeted by 15 people standing in a straight line facing us from wall-to-wall

. Instant anxiety set in as we sat down to what felt like a formal investor / board meeting. Without any delay, we were bombarded in a rhythmic-like cadence with rapid-fire questions:
"Why did you start aoiShip? What is your mission?"

"Why did you choose your co-founder?"

"How do you overcome problems?"

"How often do you fight with each other?"

"How do you split your roles and responsibilities?"
There were more questions along these themes. Surprisingly, not many were asked about our business model, although every person in the room had our lengthy application visible in front of them.
Within 15 minutes, we were done. We got up. Walked out. And felt dazed.
When we finally got outside the building, we took a deep breath, looked at each other, and then started bursting out laughing. "WE DID IT!!!" I said to Kazu, jumping up-and-down. We felt great about our answers. With the relief and pressure of the moment finally past us, it felt like a boulder was lifted off of our shoulders. We'd go on to celebrate that night in Xinyi, before catching an early flight the next morning to make our way back to Tokyo.
After our return to Japan and a small break for the weekend, Monday came quickly. The interview was in the back of our minds as we re-focused back to the grind. All was quiet in the afternoon when an e-mail arrived captioned "Thank you for applying to AppWorks Accelerator". My heart started racing and I immediately opened it:
"After careful consideration, we want to inform you that we have chosen to move forward with other applicants, but we'd like to thank you for giving us the opportunity to learn about your skills and accomplishments."
As fast as I opened it, my heart dropped off a cliff. It was devastation reminiscent of the last time I got dumped when I thought I was in love.
While the tone for the rest of the week was somber for Kazu and I, we found silver linings and were appreciative for the process and where it brought us afterwards. We did receive follow-up feedback from AppWorks, and it turned out to be a huge boost of confidence for our idea and business model.
The realization for us is: Though we are utilizing blockchain for our platform, we are not a blockchain startup. For a blockchain-focused accelerator known to churn-out startups that are inventing and creating their own proprietary blockchains,

aoiShip is simply just a user of blockchain

. We're employing existing blockchain for a practical-use method.
It wasn't a fit from the start.
It was a moment of clarity for aoiShip, helping us define our identity more clearly. It served to be beneficial for both sides, as AppWorks was able to learn from us how we intend to utilize blockchain for Japan's fashion e-commerce space and open up new possibilities in the micro-influencer economy. We thank AppWorks for the opportunity to meet with them and help us evolve our mindsets deeply about aoiShip.
Since that time, Kazu and I have been looking forward to September 25th Launch.
While I have been spending time in Manila, Kazu has been preparing the opening of our first warehouse in Tokyo. We were able to sign 16 designer brands from Japan to join our launch, with 10 more now in negotiations as of the time of this writing. Those signed brands are:
We will be making these brands available for worldwide shipping to all countries around the world, with free shipping offered to orders totaling more than ¥15,000.
Our marketing efforts will be made first to Southeast Asia and China, as sizing dimensions for Japanese apparel are most similar to these regions than western markets such as the U.S. and Europe. As we become more sophisticated with the accuracy of size estimate conversions, we will then expand our marketing to more regions.
We will be creating a separate application of our service for China, after having a promising meeting with the TikTok team in Japan, who will help position us to take advantage of their powerful influencer network and services. This will be completed after our initial September 25th launch.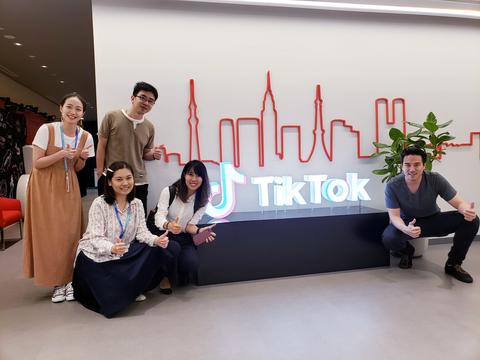 Above: Hanging out with the TikTok Japan team in Nishishinjuku.
While the superpowers-that-be make news headlines around the world on a daily basis, aoiShip will continue to pursue connecting the whole world closer to Japan's untapped fashion creations.
There is a famous quote in the fashion industry:
"The best things in life are free. The second best things are very, very expensive." —Coco Chanel
While we think this is a catchy quote by Coco Chanel, I have to respectfully disagree.
Because for us at aoiShip, we truly believe one thing:
"The best things in life are Japanese." —aoiShip
It is after all why I decided to move to Japan.
See you after launch.
Adam Boujida
Co-founder & CEO
aoiShip